Tax & Financial Planning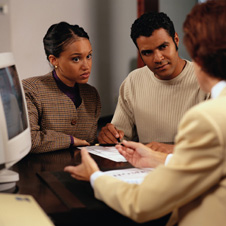 Absolute Services offers a complete array of tax and financial planning services and will work closely with you to help you achieve your financial goals.
Tax Planning
Our firm offers complete tax planning year around to minimize your annual tax
liability and maximum tax savings in future years.
Financial Planning
Our firm will help you develop a financial plan that is attainable and realistic. We will review your plan upon request for new developments. You set the goal and we help you achieve it. We have a network of certified financial planners working with our firm to ensure goal achievement and compliance with taxing authorities.
Estate Planning
Our firm's key networking to top experts in estate planning services minimize both federal and state estate tax liabilities. Our associates will endeavor to protect your heirs from the unneeded emotional devastation that can be caused by estate tax levies.
Bankruptcies
Bankruptcy is one of the most frightening words to hear when you are running a business. However, We will help you through the entire ordeal while guiding you the maze of financial and tax implications that arise. We will also consult with you regarding the benefits of reorganization or the possible necessity of dissolution. We will connect you with top attorneys in the area.